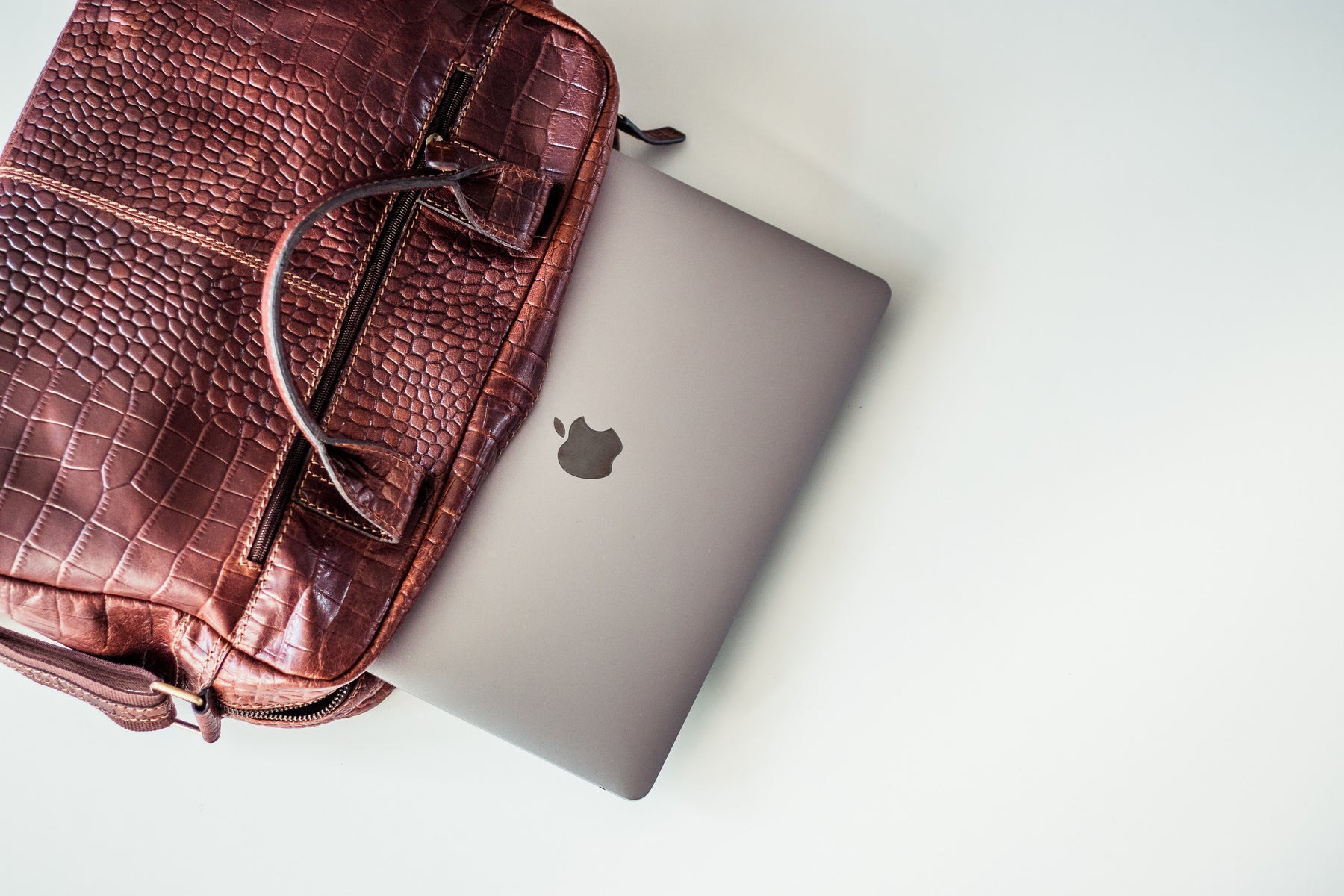 11 best leather messenger bag for MacBook 13" and 15"
"I am tired of finding a good looking bag for my Leather Macbook Messenger Bag ". " Is there a bag for me and my Mac's comfort?"- Do these questions and concerns seem familiar?
Then my friend you are on the lookout for a leather bag this year.
Not sure what you require?
We understand - there are simply too many options!
At High On Leather, we believe that a high-quality leather laptop bag should last a lifetime. If you accept, shouldn't you make sure you're receiving what you need from it?
Have you considered these questions before purchasing the first men's leather messenger laptop bag you see?
Should I go for full-grain, top-grain, or real leather?

What would be the perfect size for my 13'' or 15'' MacBook?

(checkout our Leather macbook Bags collection)
All of these are critical questions, and if you can answer them, they should ensure that you get exactly what you need. Continue reading for more detail on these topics, as well as our ranking of the top 8 men's leather laptop messenger bags in 2021.
Different kinds of bags for different MacBook sizes.
Living a fast life would need a laptop that has the fastest chip. Apple MacBook Air and MacBook Pro are the best laptops you will need to fulfill your every professional need. Taking about laptop sizes. ARE YOU TIRED OF CARRYING BULKY LAPTOPS?
WHAT IS A SUITABLE LAPTOP SIZE?
We all are workaholics, we all love working on the go. To keep your working more reliable you have to choose a laptop size that is easy to carry around and that can be carried easily.
Apple has a wide range of variants in its laptop category. When we asked people, what is their convenient size for a laptop? Most of them found the 13inch size very handy. The 13-inch size gives you the confidence of working with reliability at your own comfort.
4 things to look out for before choosing MacBook Messenger
Now that you have gotten yourself a MacBook, you need a classy carry bag to step up your look. We have got you 4 things to look out for before choosing MacBook Messenger.
There are plenty of reasons why you should choose a messenger bag that is made from leather. Being light-weight is one of those reasons. This also enables you to carry your stuff at ease. A lightweight messenger will also make you feel more flexible while working.
Secondly, these 13inch laptop messengers are very durable. These bags are made from the best leather material available on the market. Every messenger is handmade by skilled artisans who got a decade worth of experience.
Every messenger will age as time passes by and won't crease or dry out as these messengers are veg-tanned. We can assure you that this messenger will outlast every Chinese monk on this planet.
The design of the bag is very distinct and out of the box. In the end, every bag served the purpose of looking good and chic and this messenger delivers the same. The messenger range has a variety of colors that are very alluring. Basically, these can be a perfect choice for everyday working use.
Obviously, if it is a laptop bag that has to be water-resistant. Our every leather messenger is water-resistant. Matter of fact these bags can be used in every season as they won't wear out easily.
Why Leather Messenger Bags for Macbook?
Leather messenger bags are often a good place to start because they are designed particularly to accommodate a laptop. Consider a mailbag or sling style.
Leather laptop messenger bags are becoming highly fashionable among professional men - you've undoubtedly seen both younger and older men taking them to work.
Our clients adore them since they are very handy, simple to carry and have a genuine quality appearance to them.
Leather messenger bags are an excellent first backpack for a friend or relative who is taking their initial steps into the world of employment. These bags proclaim, " I'm no longer a baby, but I'm really no longer an incredibly serious state supreme court lawyer."
Check the size and inside of any leather messenger bag carefully. You want to be certain that this bag will contain everything you require.
Look attentively at the heft as well - because they are usually carried over the shoulders, you want to purchase something that you can carry easily. It's worth mentioning because if you've never had a leather purse before, you could find it a touch thicker than you expected.
Types of Leather:
If you're a newbie to the leather market, you've probably heard the terms "full grain leather" and "top grain leather" tossed about. Are you unsure what these terms mean? Don't worry, most people don't! Here's a short reference:
This is the top layer of the leather skin and has the finest grain. It has not been handled, sanded, or polished; it is precisely as it came from the animal.
It is extremely difficult to work with and hence the most costly sort of leather because no chemical treatments are authorized. Full-grain leather, on the other hand, is the most durable and typically lasts the longest.
This is the most frequent type of leather used on higher-end leather laptop bags. The very upper surface of the hide is employed once more, but this time chemical treatments are authorized. Flaws can be eliminated by buffing and sanding the hide. This typically results in a more consistent and smoother bag finishing.
The remainder of the hides is utilized as genuine leather once the top layer of skin has been broken off for top and full-grain leathers. In this case, artificial techniques are used to make real leather seem like top grain leather.
Because this is not the most popular sort of leather, genuine leather laptop bags are generally more inexpensive.
Laptop Fit:
When purchasing a leather laptop messenger bag, be sure to consider the size of the laptop the bag is designed to accommodate. When you're looking at different bags, measure your laptop diagonally and make a note of it. Most laptops are 13 or 15 inches in size, and you'll want a bag that secures them well.
Look for products that claim it fits an 'X inch laptop.' Bonus points if it's also in a cushioned cover!
Have you measured your laptop yet?
High On Leather knows leather messenger laptop bags better than others. Here are our picks for the top eight that will have an effect in 2021.
15-inch MacBook Messenger Bags -
This lineman messenger bag is one of a kind, with a full-length rear pocket for your cards, smartphone, wallets, or documents, as well as a grab-handle at the back that makes it quite versatile. If you don't want to shoulder it, you may easily utilize the handle.
An inside secret compartment accommodates your trinkets, while a water-repellant liner protects it from unexpected rains or inadvertent leakage. We designed it to be large enough to accommodate your Mac 15" along with additional iPads, wallets, hard drives, or the travel adaptor. There includes a big cushioned section to keep all of your things safe and secure.
This full-grain cowhide leather messenger bag is an absolute must-have for your 15" Macbook. A dark brown master hide of 15.74(L) * 2.95(W) * 11.41(H) with an exterior pocket, a welcoming inside lining, and a soft leather shoulder strap, but the most attractive feature is the subtle patina that builds on the bag following years of use.
This messenger is made with sturdy and long-lasting industrial stitching and has excellent brass zippers.
This delicate messenger is a perfect fit for your 15" Macbook, offering you a wonderful experience of full-grain goatskin from the terrains of Rajasthan, a 100% vegetable-dyed leather that is great for your skin as well as withstands all the impact of harsh usage owing to its striking power.
This fantastic piece of full-grain goatskin features three internal compartments, interior walls with two zippered pockets, and a complete flap top with magnetic buttons.
This goat-hide leather backpack is another excellent choice for your MacBook 15". With dimensions of 16 (W) * 13 (H) * 4 (D), three inside compartments, and one zipped internal pocket covered with a half flap cover, this is an indestructible piece to protect your valuable gadget.
This brown cross-body messenger separates your Macbook from all of our paperwork and peripherals by being incredibly easy to carry, lightweight, and comfy.
This is the toughest bag we could find it's made of sturdy full-grain cowhide. This is a messenger bag to keep your office essentials safe while traveling. The interiors look fantastic and are quite roomy.
Can fit your 15-inch laptop into this leather bag easily. The laptop section is well cushioned to keep your lappy safe.

If you want a messenger bag that is stylish and durable, but you don't need something at a pocket-friendly price point? This bag is the perfect fit for you. This bag is handcrafted by leather professionals that have relevant experience in their art.
The compartments are well cushioned to keep your laptop safe. The leather bag is also water-resistant to keep you clean and safe. Overall a good buy.
13-inch MacBook Messenger Bags -
When it comes to 13" laptop bags, people are mostly looking for compact, precise, and smarter pieces. Undoubtedly you are going to love the designs coming next if you are a 13" Mac Book owner.
The first item you could look for at a store is a full-grain leather messenger. And if it includes everything you need, including the small inside walled pen pocket, then you're good to go!
This deep brown briefcase messenger is 13.38(L) * 2.75(W) * 9.44(H) full-grain cowhide with a flexible shoulder strap and a handbag handle to carry in hand, on the shoulder or even cross-body.
Furthermore, the cowhide makes it far more robust than you may expect. Even on the busiest streets, the lining sleeves can safeguard your laptop and gadgets. Take note that there are two walled pen/pencil compartments for your miscellaneous items.
We have brought this extremely distinctive messenger for those who enjoy the shading feel of aniline-colored and oiled leather. This distressed leather will precisely characterize the richness of distressed leather with its lovely oiled texture, making it a perfect fit for your 13" MacBook. The finest feature is that it can readily withstand scratches and bends while also repairing itself.
In the case of distressed leather, the displacement of fiber and oil is just as easy to smooth out. With a magnetic button complete flap cover and a capacity of 13 (L) * 10 (H) * 4 (D), this offers you a compact space for your Mac 13".

This traditional messenger is well-liked because of its minimalism. This briefcase is well-liked because of its rough appearance. Because of the presence of lanolin, genuine goat leather is more soft and supple than any other leather. It is warm, airy, and does not cram your belongings within.
It has a pebble-like surface, which adds to the beauty of this rough item. It includes a huge primary pocket a zipped pocket, and separate compartments for pens and other trinkets. It measures 13 (W) * 10.5 (H) * 4 (D).
The color black is considered a luxury. This goat leather messenger has been painstakingly created with a one-of-a-kind design; a beautiful shine over black makes it appealing and a suitable choice for corporates, business delegations, and another special occasions.
It has the classic shape, looks, and feel of a traditional briefcase. it comes with a removable shoulder strap, but you can carry it comfortably by its top handles too. All compartments are separated by dividers to keep you organized and everything separate and in place.
If you want to up your work fashion game this leather artifice should be your go-to.
Whether it's a Macbook Pro or a Macbook Air, all Apple fans are enthralled by elegance and luxury, as well as quality and design. Genuine leather can't be a better option for Macbooks.
There are many options for those seeking original leather bags for Macbooks, depending on their own tastes for more suppleness, softness and smoothness, texture, scraped, polished, buffed, or roughness.
Though messengers are most suited for MacBooks owing to their lightweight, convenience of storage, and aesthetics, briefcases and backpacks are also options.
Multiport adapters, leather sleeves, glass guards, USB adapters, and trackpad gestures are included with Macbooks. And if you are a frequent MacBook user, you will undoubtedly need space and storage for each of these peripherals.
And if you have an iPad and need to share a room with your Macbook, here you go. For your greatest pleasure and comfort, all of the messengers listed above are fully cushioned and equipped with the necessary organizers.
(Authored and fact checked by SEO Singh.)
Checkout Our Other Collection