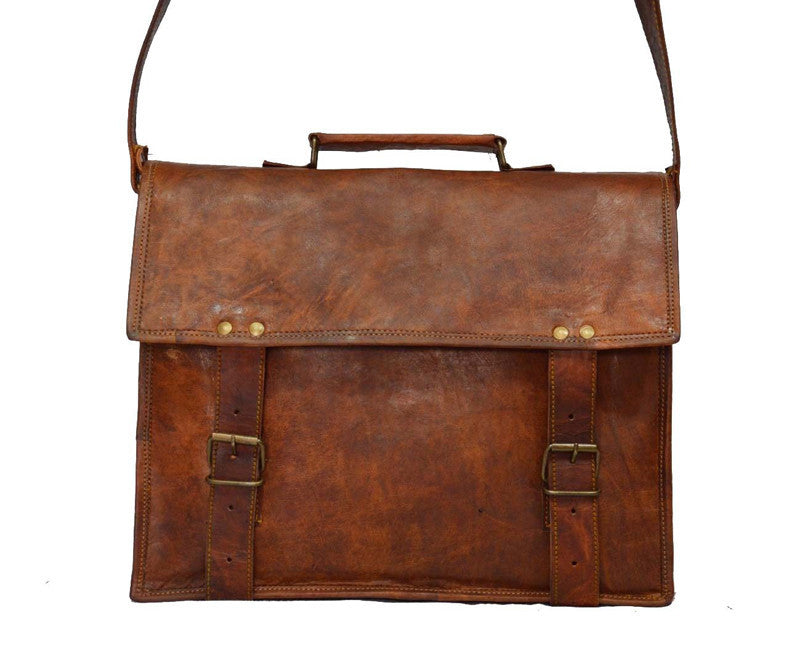 Indiana Jones Leather Satchel 13"
Original price
$149.95 USD
-
Original price
$149.95 USD
$149.95 USD
-
$149.95 USD
Current price
$149.95 USD
We all remember Harrison Ford in Indiana Jones. We all have wanted to be just like him. So here's your chance to finally feel just like him with our beautiful Leather Satchel. Constructed of goat leather, there's nothing you can't put in it. 
The leather strap to our "Indiana Jones Satchel" bag comes ready for frequent use and is not just an antique, it's ready for anything. Indiana Jones' satchel is an iconic relic.
While Indy travels around the world in the mid to late 1930s, his shoulder bag is actually from the mid 1940s! These vintage leather satchels are hardly available nowadays. This particular Indiana Jones Satchel is quite rare, being over 60 years old, and is hard to come by in a state where you can use it day in and day out like ours.
Features:
Colour : Brown
Leather: Goat Leather

Dimensions: 13 (L) * 10(H) * 4(D)

3 Internal Compartments
Middle compartment walls are cushioned to keep the laptop
2 Zippered Pockets on the internal walls of the bag
Adjustable Strap with Max Length 55 Inches
Shipping: Free Shipping Worldwide via DHL. Reaches in 5-6 Business Days.
Still confused about what kind leather bag to purchase? Check our Leather bag buying guide here.
Our leather bags are a by product of meat industry that means no animal was slaughtered in the process of making this bag. For more information click here.